Selling Tickets Online Guide
Is this your first time selling tickets online and need to understand how it all works? Keep reading to find out which method is best for you, how to sell tickets online, and for tips on how to make your event even more successful!
Are you an experienced event organizer looking to sell tickets online with a platform that charges lower service fees but still gives you the tools you need to host a successful event? Scroll down to learn more about what Ticketstripe offers.
Are you looking for tips on how to sell more tickets to your event? Scroll down to explore our customer's four favorite event tips.
Where to Sell Tickets Online
RECOMMENDED METHOD: Sell Tickets Online with a Ticketing Platform – the quickest and cheapest way to start selling tickets online!
What you get with Ticketstripe:
---
Unlimited, personalized and search engine optimized event pages (easy to view and purchase from on any device)
Unlimited ticket types (plus hidden tickets)
Secure payment processor (accept credit card payments or donations online in multiple currencies)
Daily deposits with Stripe merchant account
Immediate funding with PayPal merchant account
Reporting to view crucial event data
Marketing tools
Fast organizer check-in mobile app
Customer success manager for large events
No need for your own website. Your event page is your sales page.
What you need to know:
---
Easy
Quick
Cheap
Effective
Time saver
Cash flow
Fees are paid by the ticket buyer so you end up selling tickets for free – at no cost to you!
Follow the steps below to bypass using a ticketing system and sell tickets just using your website and PayPal
What you need to do:
---
Sign up for a PayPal Account
Design and implement a page on your website with your event details that is optimized for all devices (so the user can view it easily)
Create the PayPal "payment button" and implement it on your event page
Design and implement your Ticket(s) considering a variety of delivery methods customers expect:

digital how you will send them post purchase
will-call how to maintain accurate attendee lists the day of the event

Add social sharing buttons to your event page
Implement reporting to:

keep track of attendees
keep track of payments and refunds
export attendee's information
track traffic sources
What you need to know:
---
PayPal charges $2.9% + $0.30 per transaction.
PayPal does not allow you to pass on fees to the buyer. These fees will come out of the event organizer's proceeds.
You might have to deal with a "ticket reserve". PayPal can put a hold on your account and release funds only after your event.
Studies show more "drop offs" occur when the customer is forced to leave the event website and check out via PayPal.
Regardless of the ticket type you created, without a mobile check-inn app you risk bottle necks at the door and incomplete attendee lists from same day purchasers.
Avoid all the work outlined above and start selling tickets immediately when you connect your PayPal account with Ticketstripe. Selling tickets with Ticketstripe gives you an an all-inclusive and optimized ticketing platform that thousands of organizers worldwide have used for over 15 years. Focus your efforts on growing your events, while we assist you selling it out.
Sell tickets online just using your own website and merchant account
What you need to do:
---
Apply for a merchant account and Internet gateway
Design and implement an optimized event page on your website that is viewable across any device and browser
Implement e-commerce functionality on your website
Optimize the shopping cart pages to be search engine and mobile device friendly/responsive
Ensure that your pages are secure and in compliance with strict merchant requirements (PCI compliance)
Connect your shopping cart to a credit card processor
Design and implement your Ticket(s) considering a variety of delivery methods customers expect:

electronic, how you will send them post purchase
will-call, how to maintain accurate attendee lists the day of the event

Add social sharing buttons to your event page to enable easy sharing
Implement reporting to:

keep track of attendee information
keep track of payments and refunds
export attendee information
track traffic sources
What you need to know:
---
Your merchant bank will likely charge between 3-5% plus $0.20 – 0.30 cents per transaction
Your internet gateway will likely also have a monthly fee plus a transactional fee
You may not be able to pass the credit card fees on to the ticket buyer
Development costs are not only a sizeable investment but will also take time
How seamless is your attendee's check-in experience going to be without a mobile app? With long lines at the door you risk losing a repeat customer.
You don't need to be a web expert to sell tickets online. Sign up today to start selling tickets online with a fully-featured ticketing platform that strips away all the complexity.
How To Sell Tickets Online
Choose where you will sell tickets online.
This could consist of one or more of the following:

Ticketstripe's ticketing platform
Your own website
All of the above

Create your event page. This is your sales page so use detailed event information and "romance" copy with imagery to connect with your visitors emotionally.
Choose your payment processing method.  
Stripe is a leading credit card processing platform used by millions of companies in over 120 countries. Ticketstripe makes it easy to connect a Stripe or PayPal account with our system to sell tickets online. You can also sell tickets on your own site using PayPal or other merchant account.
Create your tickets. Free admission, general tickets, VIP tickets, promotional tickets, sponsor tickets, donations.
Publish your event page and start selling.
Promote your event everywhere your buyers are online.

Targeted social, email, and video campaigns
Don't forget about traditional media outlets
Persuade influencers to spread the word
Do give aways and promotional merchandise (swag)
Get Sponsors
Use real time analytics to inform your marketing campaigns and event preparation.
Start promoting your next event now.

Use this event ticket to start advertising your next event
Save this audience for future event emails and social campaigns

Email ticket buyers the day before the event with relevant event details.
Check-in attendees. This can be done using our iPhone or Android mobile app or print an attendee list.
Take lots of photos and videos. Post these during and after the event on social media for maximum engagement.
Sell tickets online in 3 easy steps
---
Get started with a Ticketstripe account for free. Fill in your event details and list your tickets for sale.
Expand your reach with our built-in promotional tools and social sharing.
Start selling tickets online and monitor your success with real-time reporting.
Personalized event pages, unlimited ticket types, built-in marketing tools, unlimited affiliate accounts, low fees and a fast check-in app; all in one easy-to-use ticketing platform.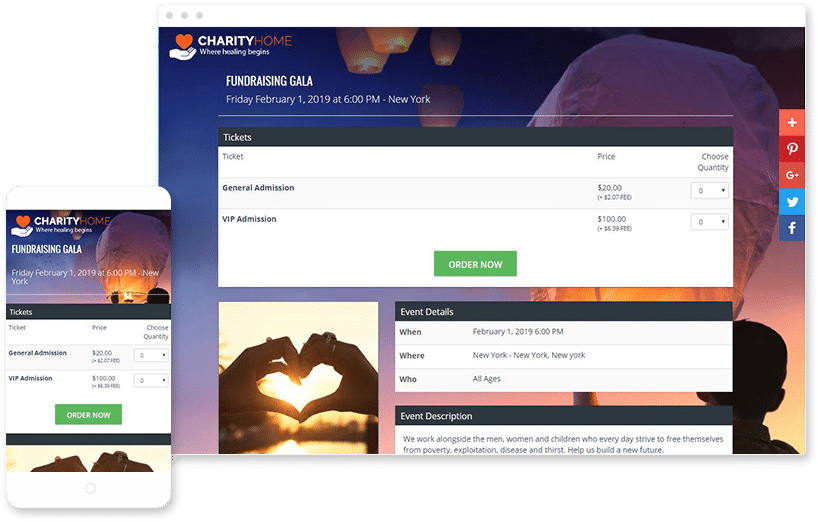 Personalized event pages
Start selling tickets online in minutes with event pages designed to look great on any device. Customize your event page URL so it's easy to share and recognize. Personalize your event page with images and logos so it best reflects your organization and provides the buyer with relevant event details
Marketing simplified
Built in social sharing tools makes it easy for you and ticket buyers to share your event page
Social network tracking gives you access to key performance indicators that will help you make informed marketing campaign decisions
Search engine optimized event pages automatically help you reach more people via organic search results
Unlimited affiliate promoter accounts magnify your marketing efforts and can dramatically increase overall sales
Customizable
checkout experience
Custom order forms enable you to collect additional information from your attendees
Personalized post-order messages allow you to keep your customers well-informed
Customizable digital tickets enable you to display related advertisements or sponsor promotions
Low service fees
Accept American Express, Visa, Mastercard, and Discover. Accept multiple currencies. All fees are passed on to the ticket buyer, but organizers have the option to absorb fees.
Fast payment
Ticketstripe makes it easy to sell tickets online by letting you connect with either a PayPal or Stripe merchant account. Stripe is one of the world's leading secure payment providers that deposits funds within two days of each ticket purchase. PayPal often deposits funds into your PayPal account immediately after the sale.
No set up fees
No monthly fees
No contracts
Free for Free events
Free events are always free to list and promote with Ticketstripe. You get unrestricted access to all our tools, including the organizer check-in app for free!
4 Tips to Help You Sell More Tickets Online To Your Event
Show the man behind the Green Curtain
Create richer personal experiences for your fans by "going beyond the veil" and giving customers a sneak peek into the inner workings of your brand. It builds a story and that creates die-hard fans, increasing lifetime per-customer profits.
Learn more
Tap into Human Emotion
"Emotions don't hinder decisions. They constitute the foundation on which they're made!" – Douglas Van Praet, founder of "Unconscious Branding".
Tap into the desire to be happy by promoting the joy of attending your events. Tap into the fear of missing out with "for one night only" verbiage and "sold-out" to open up the opportunity for premium and VIP upsells. Tap into the "helper's high" with hopeful images and messaging that reminds us of how much good our small donation can really do. Use that emotional appeal to make your advertisements stand out and increase sales. And don't forget to ask for that share!
Learn more
Attract Quality Partners
What makes a good partner? Look for well-known names in your area (whether it's industry related or media partners). You want that brand recognition to work for you. Ensure they have the pull necessary to do what you need them to.  You need someone who can invest the time, effort, and funds necessary to make your event a success.
Learn more
Know Your Customer and use the 80/20 Rule
It's easy to think casting a wider net will bring in more profits. More tickets sales means more dollars, right? Not always. The Pareto principle states that "for many events, roughly 80% of sales come from 20% of customers".
While it may seem counterproductive to limit the scope of your advertising, by knowing who your audience is and who it isn't you can tap into that hardcore fan base and actually attract more dedicated fans—which generate a larger percentage of your profits both now and at future events.
Learn more
Give Us a Spin!
Sign up for free and start selling tickets today
By clicking 'Get Started' I confirm that I agree with Ticketstripe's terms of service & privacy policy.